Roadside Assistance At Your Fingertips
COMPLETE SETUP AND CONTROL
Preset standard operating procedures and equipment details to help you manage all aspects of repairs.
REAL-TIME SERVICE MONITORING
Complete insight into active road service events on one dashboard, including repair status, duration, and expected roll time for each event.
NO PHONE REQUIRED
Request road service and provide the exact breakdown location using the FYX Platform without the need to call or email.
SIMPLIFIED BILLING
Pay for services right from your desktop via ComCheck, credit card or bill to account.
AUTOMATED NOTIFICATIONS
The platform provides standardized communication, multi-dimensional notifications and scheduled touch-points for each job.
FULL BREAKDOWN TRANSPARENCY
Customer-centric solutions, upfront estimation and price transparency, that integrate real-time breakdown details to provide accurate quotes. 
Your roadside repair handled from start to finish.
REQUEST SERVICE
The customer contacts our service coordinators via phone, email or FYX portal or mobile app.
SERVICE DISPATCHED
A preferred service provider is dispatched immediately to get you back on the road. You can track your repair status and chat with the dispatcher in real-time.
BACK ON TRACK
Our preferred service provider arrives on the scene, ensuring prompt service to minimize downtime.
FLEET MANAGEMENT
Our web-based customer portal and mobile app provides fleets with comprehensive repair management tools.
FYX DRIVER APP – MANAGE ROADSIDE REPAIRS RIGHT FROM YOUR SMARTPHONE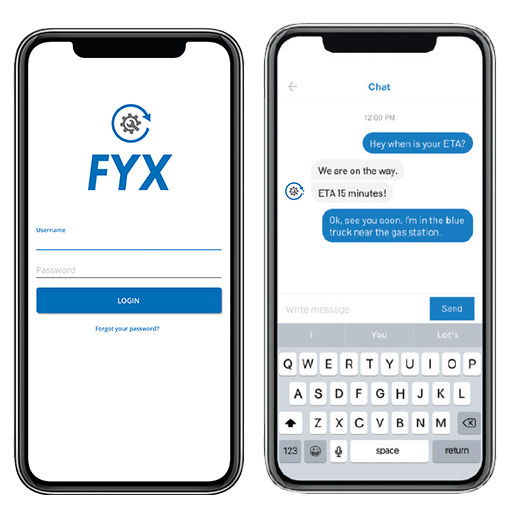 Report an incident right from your phone
Chat with your service coordinator
Map your technician's location
Follow your repair status in real-time
Make payments with a simple click
TECHNOLOGY PLATFORM THAT KEEPS YOUR FLEET ON THE MOVE
GET STARTED WITH FYX
Simplify your roadside assistance with one of our great products.