INTRODUCING THE NEW FYX™ PLATFORM
FYX™ is the leading provider of emergency roadside assistance for the intermodal and over-the-road trucking industries, offering expedited service and protection for your fleet.
ROADSIDE ASSISTANCE
Around-the-clock response to your mechanical, tire, and towing needs.
PREFERRED PARTNERS
Nationwide network of trusted roadside repair experts.
YEARS OF QUALITY SERVICE
Long-standing history providing fleet emergency solutions.
EMERGENCY SOLUTIONS YOU CAN RELY ON
Expedited Roadside Repairs. Anytime. Anywhere.
24/7 REPAIR MANAGEMENT
24/7 REPAIR MANAGEMENT
Our specialists are on call around-the-clock, ensuring prompt response and expedited service.
EXPERT ROADSIDE REPAIRS
EXPERT ROADSIDE REPAIRS
From tire repair or replacement to major mechanical work, FYX ensures your fleet is handled with expert attention and care.
PREFERRED PARTNER NETWORK
PREFERRED PARTNER NETWORK
FYX's Preferred Partner Program gives you access to the best technicians and mechanics anywhere in the continental U.S. and Canada.
COMPLETE PROCESS MANAGEMENT
COMPLETE PROCESS MANAGEMENT
As a one-stop solution for all roadside emergency needs, FYX provides comprehensive insight into your fleet's repair process.
SERVICES DESIGNED FOR YOUR FLEET
Expert repairs for trucks, trailers & chassis
Tire Repair
& Replacement
FYX™ MOBILE – MANAGE ROADSIDE REPAIRS RIGHT FROM YOUR SMARTPHONE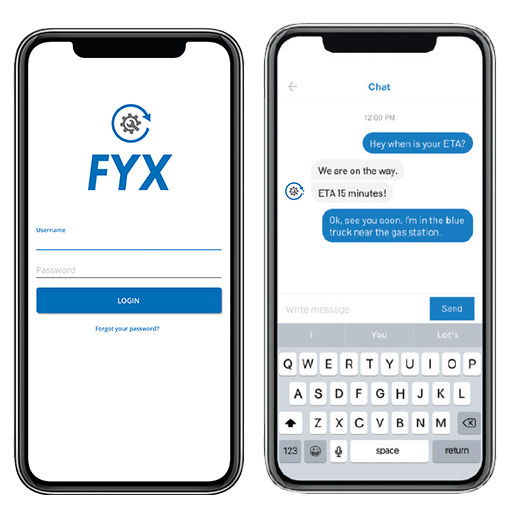 Report an incident right from your phone
Chat with your service coordinator
Follow your repair status in real-time
Make payments with a few simple clicks
TRAC INTERSTAR IS NOW FYX™
TRAC Interstar has changed its name to FYX™. The new name combines TRAC Interstar's proven heritage in service excellence with next-generation road service technology.
GET STARTED WITH FYX
Simplify your roadside assistance with one of our great products.