Grow your opportunities by joining our vendor network.
The foundation of our repair and maintenance service is a managed network of quality service providers. We have thousands of participating vendors and encourage you to consider being part of our network.
WHY YOU SHOULD JOIN OUR
PREFERRED VENDOR NETWORK
ACCESS TO OUR CUSTOMER BASE
Gain exposure to FYX's customer base of several thousand commercial and intermodal trucking companies.
SUPPORT FOR YOUR CUSTOMERS
Provide emergency road service outside of your coverage area to your customers through FYX™ network.
TIMELY & CONSISTENT PAYMENTS
Our billing department operates 8am to 9pm Monday – Friday to insure that your invoice is processed as soon as possible.
PURCHASE ORDER WITHIN 48 HR
The moment your invoice is issued, a PO number is submitted to our billing department for timely payment.
CONSIGNED INVENTORY
Reduce the carrying cost of your inventory by allowing FYX™ to stock our product at your location.
DISCOUNT PURCHASES
Increases your buying power on selected tires and parts by using our volume discounts.
FYX MECHANIC APP – MANAGE REPAIR ORDERS RIGHT FROM YOUR SMARTPHONE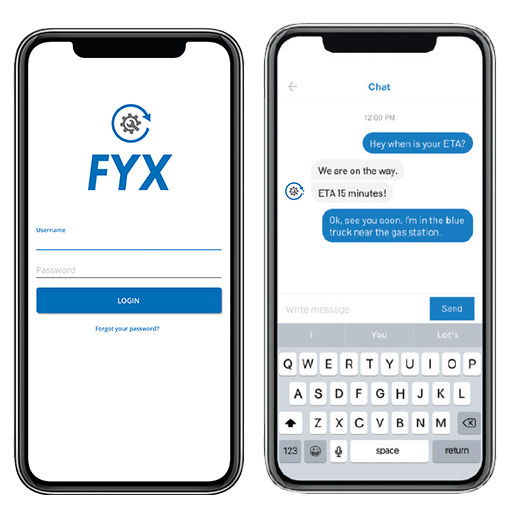 Paperless work orders and automated pricing

Upload photos together with incident reports
Invoicing module with real-time status
Dashboard of current repairs
Chat with your dispatcher
If you're a current vendor and you have questions about your account or require general assistance, please call our Vendor Management team at 866-220-0731 or e-mail vendor@fyxfleet.com. Additional phone numbers and e-mail addresses are listed on the Contact Us page.
JOIN OUR NETWORK
Open a vendor account and become a part of the industry-leading fleet service provider.