Roadside Assistance At Your Fingertips
Used by North America's leading intermodal and OTR companies, the FYX Platform offers proven, efficient and reliable tools for managing any roadside assistance needs. This innovative software delivers real-time service monitoring and streamlined communications to fleet managers and owner-operators across all phases of the repair process. 
FYX PORTAL  – ROADSIDE ASSISTANCE SOFTWARE THAT KEEPS YOUR FLEET ON THE MOVE
Covering all aspects of emergency roadside repairs for every fleet size.
COMPLETE SETUP AND CONTROL
Preset standard operating procedures and equipment details to help you manage all aspects of repairs.
ANALYTICS TOOLS
Advanced analytics dashboard and service data reports to maximize control of your fleet's repair process.
NO PHONE REQUIRED
Receive repair updates quicker and with less email and phone back and forth communication. Allowing more time for day-to-day operations.
REAL-TIME SERVICE MONITORING
Complete insight into active road service events on one dashboard, including repair status, duration, and expected roll time for each event.
SIMPLIFIED BILLING
One-click billing module and extensive EDI and API capabilities.
REPAIR DATA EFFICIENCY
Eliminate repair entry discrepancies and extended wait times with incorrect breakdown information. Log all correct data at one time in one place. 
Your roadside repair handled from start to finish.
REQUEST SERVICE
The customer contacts our service coordinators via phone, email or FYX portal or mobile app.
SERVICE DISPATCHED
A preferred service provider is dispatched immediately to get you back on the road. You can track your repair status and chat with the dispatcher in real-time.
BACK ON TRACK
Our preferred service provider arrives on the scene, ensuring prompt service to minimize downtime.
FLEET MANAGEMENT
Our web-based customer portal and mobile app provides fleets with comprehensive repair management tools.
FYX PORTAL – MANAGE ROADSIDE REPAIRS FAST AND EFFICIENTLY WITH NO PHONE OR EMAIL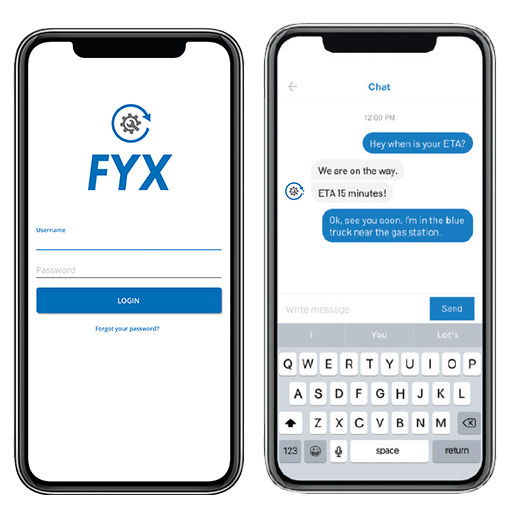 Seamless hassle-free communication
No phone – email required
Simple 1-step request process
Follow your repair status in real-time
Eliminate data entry discrepancies
Improved business and repair flow
TECHNOLOGY PLATFORM THAT KEEPS YOUR FLEET ON THE MOVE